Set 25
Nucleosynthesis of light and heavy elements across the Galaxy: AGB Stars and Neutron Star Mergers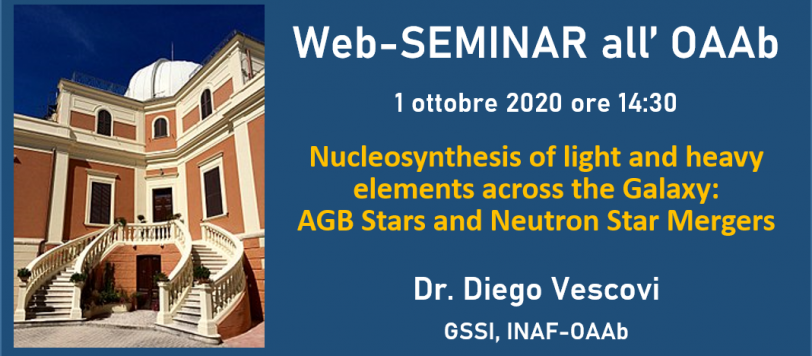 Giovedì 1 ottobre alle ore 14:30, il Dott. Diego Vescovi del Gran Sasso Science Institute, terrà il web-seminar dal titolo "Nucleosynthesis of light and heavy elements across the Galaxy: AGB Stars and Neutron Star Mergers".
Abstract
The synthesis of elements beyond the iron peak mostly takes place through slow (s) or rapid (r) neutron capture processes. AGB stars are the site of the main component of the s-process, where a 13C n-source (13C pocket), formed due to partial mixing of hydrogen from the envelope, operates. In the first part of this presentation, I will show that the formation of the 13C pocket can be induced by magnetic buoyancy instabilities and that stellar AGB models including such mixing are able to simultaneously reproduce all the s-process isotopic anomalies measured in presolar SiC grains.
Binary neutron star (BNS) mergers are instead primary sites for the production of heavy elements through the r-process. However, this production can be accompanied by the synthesis of lighter elements, especially helium. In the second part of this presentation, I will discuss the production of light elements (Z < 20) in the ejecta of binary neutron star mergers, and show that hydrogen and helium are the most abundant light elements. Finally, I will discuss the production mechanisms of such elements and the possibility of their detection in kilonova spectra.
Web-seminar ad accesso riservato.
Segui la diretta streaming del seminario sul canale YouTube dell'Osservatorio Astronomico d'Abruzzo