Set 10
A peep into Gaia (E)DR3: Photometry and low-resolution spectra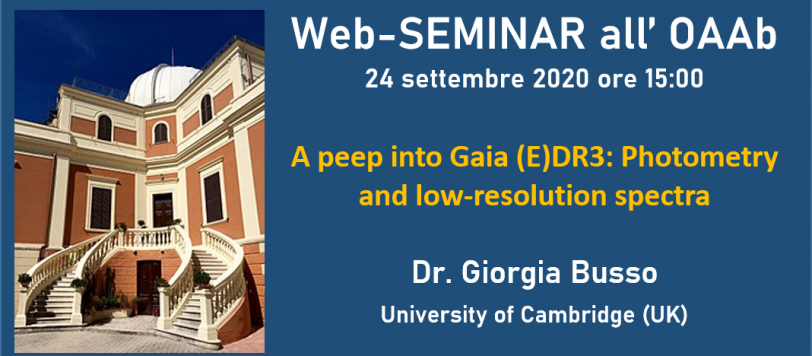 Giovedì 24 settembre alle ore 15:00, la Dr. Giorgia Busso dell'Instituto di Astronomia dell'Università di Cambridge (UK), terrà il web-seminar dal titolo "A peep into Gaia (E)DR3: Photometry and low-resolution spectra".
Web-seminar ad accesso riservato.
Abstract
The Gaia Data Release 2 catalogue has been used extensively by the scientific community to produce revolutionary results in different areas of astrophysics. The expectations for the upcoming EDR3 (and even more so DR3, with the inclusion of several new products) are huge. In this presentation I will shortly introduce the Gaia Mission and give a high level overview of the processing of photometric and low-resolution spectroscopic data. As part of the data processing effort within DPAC, the scientific validation of the data products offers a preview of the quality that can be expected for (E)DR3. I will share some of these results focussing on the photometric and BP/RP spectral data.
VIDEO del SEMINARIO sul CANALE YouTube dell'Osservatorio Astronomico d'Abruzzo