Ott 4
Spectroscopic characterisation of very young systems in our Galaxy: from stellar clusters to sub-stellar companions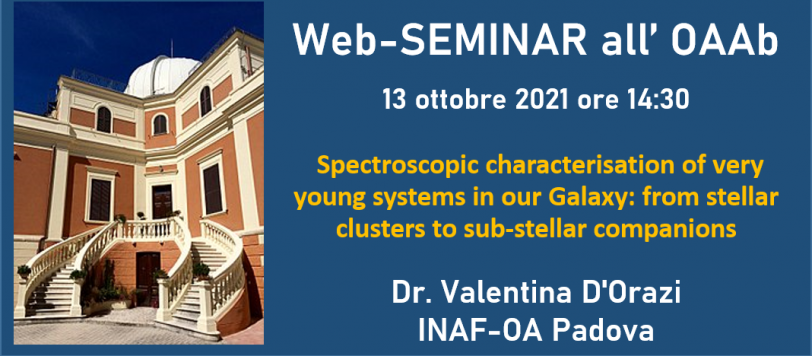 Mercoledì 13 ottobre alle ore 14:30, la Dr. Valentina D'Orazi dell'INAF-OA Padova, terrà il web-seminar dal titolo: Spectroscopic characterisation of very young systems in our Galaxy: from stellar clusters to sub-stellar companions.
Abstract
Large spectroscopic surveys are -and will be- providing us with a wealth of information on atmospheric parameters and detailed chemical composition (light-, proton-capture, iron-peak, and neutron-capture elements) in different Galactic populations (including thick and thin disc stars). Interestingly, less attention has been paid to the study of the chemical composition of very young stars (i.e., younger than roughly ~100 – 200 Myr). Two major issues are currently affecting our comprehension of these systems: (i) the lack of young metal-rich stars/clusters in the solar surroundings and (ii) the so-called barium puzzle.
I will review the status of the field and will present new results on both topics. General implications on Galactic chemical evolution and planet formation mechanisms will be also discussed. Finally, I will present SHARK-NIR -a new facility with coronagraphic and spectroscopic capabilities that is under construction at INAF and will be mounted at LBT next Summer. Scientific cases include exoplanet detection and characterisation, circumstellar discs and jets, AGN, and solar system bodies.
Web-seminar ad accesso riservato.